EMPACT concludes in online conference
Posted on |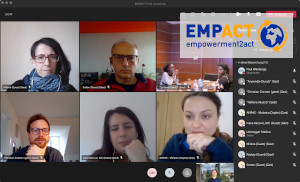 The project EMPACT held its concluding workshop on 23 March. The event was held online, with travel for the partners from eight countries still off the table due to the ongoing Covid-19 pandemic.
The workshop focused on summarising and collecting the project's results. After a little more than two years of productive work, all five non-EU organisations were able to hand in certification requests as EUAV hosting organisations, thereby fulfilling the project's primary objective in full. In various workshops, participants evaluated, updated and improved their policies, procedures and practices in various aspects of volunteer management, in particular with regard to the challenges that come with receiving international volunteers. As a secondary objective, partners also widened their horizons in humanitarian work and recognised standards in this area. The Core Humanitarian Standard was taught and discussed alongside similar topics from the EUAV catalogue. Betwen workshops, project participants also took part in several e-learning units on topics they chose as relevant for their work.
Beyond this, the final workshop discussed how to transition to the new humanitarian aid strand of the European Solidarity Corps (ESC). The ESC is set to substitute the EUAV program that unfortunately ran out a year earlier than originally planned, due to Covid-19 making international deployments impossible in 2021. The EMPACT consortium will observe the set-up of ESC and has agreed to jointly discuss how to continue working together in the new program.
To close the project, a video titled "We are EMPACT" was presented, that featured all the non-EU partner organisations, some of their activities and their takeaways from the project: