Work on certification continues in Nairobi
Posted on |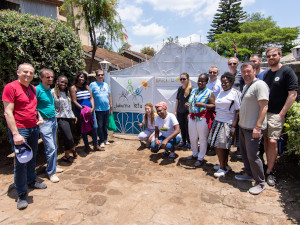 The consortium of EMPACT came together in Nairobi, Kenya from 24-29 February their second certification workshop. Local project partner Jukumu Letu hosted the group.
The workshop in Kenya was used to review all partners' policy drafts on topics discussed at previous workshops. It also focused on the new topics of professional & social recognition, code of conduct, safeguarding, and equal opportunities & non-discrimination.
Besides continuous work on these policies and standard operating procedures, the group also again worked on corresponding aspects of the Core Humanitarian Standard.
Also on the agenda were discussions on perspectives for deployment projects. The consortium unanimously decided to expedite efforts for certification, to still be eligible for applying for a deployment project in this year's call. The call for proposals for deployment projects is expected to come out soon, with a likely deadline in June.
Partners are currently finalising their policies and SOPs. A third certification workshop to discuss final issues with the documents and work on steps beyond the initial request for certification is planned. Time and place will be determined once it is foreseeable that travel restrictions related to the ongoing COVID-19 pandemic are going to be eased again.